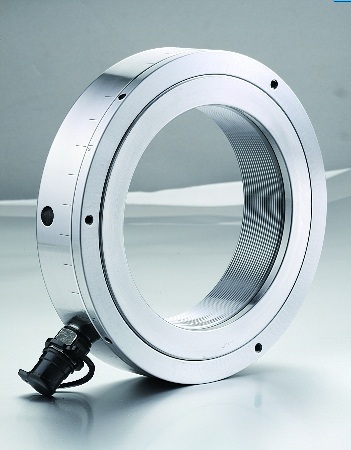 ADP Hydraulic Nut with Measuring Ring
-- Thanks to the "integrated measuring ring", which is the center of our innovation, the required distance of axial drive-up of bearings with taper bore during installation can be done precisely without dial gauge or other instrument of any kind.
-- The very same ADP hydraulic nut can be used for mounting as well as dismounting. An unique feature that is not rivaled by any current patented designs available on the market.

-- Less time required to disassemble the hydraulic nut if sealing rings are to be replaced.

-- Basically, there is no need to double-check internal clearance of bearing upon installation because of the measuring capability of the hydraulic nut itself. This comes in handy especially for those readily-sealed bearings where no internal clearance check is possible.
-- Other than the above, general features/functions are identical or superior to current market offerings.
model:
HMV10E,HMV11E,HMV12E,HMV13E,HMV14E,HMV15E,HMV16E,HMV17E,
HMV18E,HMV19E,HMV20E,HMV21E,HMV22E,HMV23E,HMV24E,HMV25E,
HMV26E,HMV27E,HMV28E,HMV29E,HMV30E,HMV31E,HMV32E,HMV33E,
HMV34E,HMV36E,HMV38E,HMV40E,HMV41E,HMV42E,HMV43E,HMV44E,
HMV45E,HMV46E,HMV47E,HMV48E,HMV50E,HMV52E,HMV54E,HMV56E,
HMV58E,HMV59E, HMV60E,HMV62E,HMV63E,HMV64E,HMV66E,HMV67E,
HMV68E,HMV69E,HMV70E,HMV71E,HMV72E,HMV73E,HMV74E,HMV75E,
HMV76E,HMV77E,HMV80E
HMVC10E,HMVC11E,HMVC12E,HMVC13E,HMVC14E,HMVC15E,HMVC16E,
HMVC17E,HMVC18E,HMVC19E,HMVC20E,HMVC21E,HMVC22E,HMVC23E,
HMVC24E,HMVC25E,HMVC26E,HMVC27E,HMVC28E,HMVC29E,HMVC30E,
HMVC31E,HMVC32E,HMVC33E,HMVC34E,HMVC36E,HMVC38E,HMVC40E,
HMVC41E,HMVC42E,HMVC43E,HMVC44E,HMVC45E,HMVC46E,HMVC47E,
HMVC48E,HMVC50E,HMVC52E,HMVC54E,HMVC56E,HMVC58E,HMVC59E,
HMVC60E,HMVC62E,HMVC63E,HMVC64E,HMVC66E,HMVC67E,HMVC68E,
HMVC69E,HMVC70E,HMVC71E,HMVC72E,HMVC73E,HMVC74E,HMVC75E,
HMVC76E,HMVC77E,HMVC80E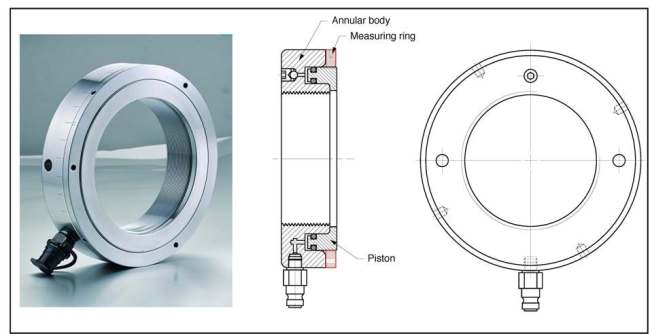 Design Principle

ADP hydraulic nut consist of an annular body, and a piston, in addition to the above main parts, there is a measuring ring which is the center of our innovation. The piston is operated hydraulically. The pressure chamber is sealed by two O-rings ofNitrile butadiene rubber (NBR).
The hydraulic nut are designed for a maximum oil pressure of 100 MPa (1000 bar or 14500 psi).Their stoke is power enough that the rolling bearings or other parts can be mounted in a single operation.
The bore G in the annular body is available with a metric fine thread, a trapezoidal thread or an inch thread. They are suitable for sleeve and shaft threadsof international standard.
ADP hydraulic nuts feature two oil supply connection holes with G 1/4 thread. Four handling holes are on the outside diameter of the annular body and two handling holes are on the side face for easier handling.