The ADP Easy Extraction Adapter Sleeves, as its name, is very convenient to dismount the bearing compare to conventional adapter sleeve.
First, disengaging the bent tab of the locking washer from the lock nut, then loosen the lock nut a few turns. Second, loosen the grub screw on extraction nut and then tighten the extraction nut, the bearing will become loosening.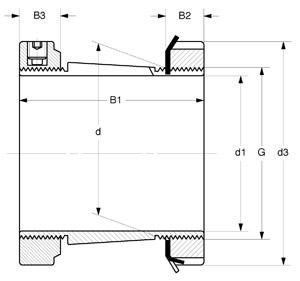 Typical application of ADP easy extraction adapter sleeves, mounted on smoothing shaft without space problems.
Materials
The materials using in ADP adapter sleeves are carbon steel with a tensile strength at least 430N /mm2,
Dimensions
The dimensions of metric ADP adapter sleeves are in accordance with ISO 2982-1:1995; except the bore diameter of metric sleeves for inch shafts.The dimensions of ADP adapter sleeves with inch dimensions are in accordance with ANSI/ABMA Std. 8.2-1991.

Tolerances
The bore diameter of metric ADP adapter sleeves is to tolerance JS9, the width to h15.The tolerances of ADP adapter sleeves with inch dimensions are in accordance with ANSI/ABMA Std. 8.2-1991.

Thread
Metric ADP adapter sleeves up to size 40 have metric threads with 6g tolerances, according to ISO 965-3:1998. Larger adapter sleeves have metric trapezoidal threads with 7e tolerances, according to ISO 2903:1993.ADP adapter sleeves with inch dimensions up to and including size 64 (12 inch shaft diameter) have UnifiedSpecial Form threads (based on the old American National form, class 3 design). Larger sleeves have Acme Class 3G, General Purpose threads.

Shaft tolerances
Generally, the form tolerances must be kept within narrow limits as the accuracy of form directly affects the running accuracy of the bearing. shafts should be to an h9 tolerance but the cylindricity should be to IT5/2 according to ISO 1101:2004.
Mechanical mounting of ADP Easy Extraction Adapter sleeves with a feeler gauge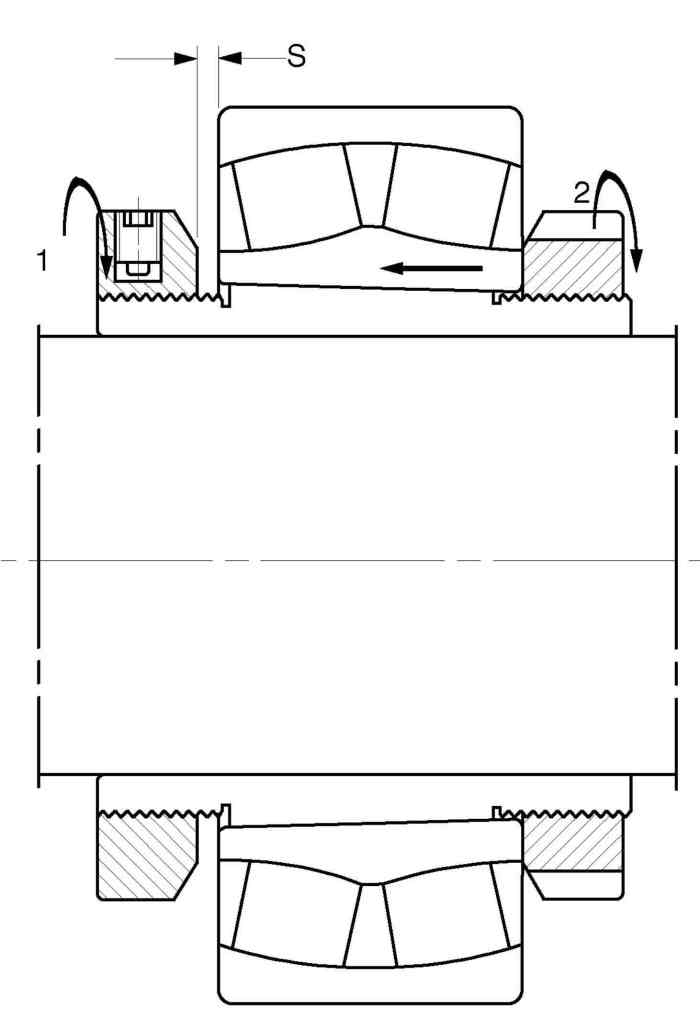 1,Measure the initial clearance of the bearing with the feeler gauge.
2,Oil the contact areas on the shaft, sleeve and bearing only very thinly prior to mounting.
3,Place the sleeve with it's extraction nut onto the shaft and then push the bearing onto the sleeve.
4,Screw the lock nut onto the sleeve thread, use lock nut drive the bearing a little bit on the taper seating, make sure that there is not any clearance between sleeve bore and the shaft
5,Insert the feeler gauge with corrected axial dive up distance (see page 10) then screw the extraction nut to clamp the feeler gauge .
6,Remove the feeler gauge, the gap between extraction nut and side face is the axial driving distance.
7,Screw the lock nut until the side face of large end bore of the bearing is stopped by the extraction nut.
8,Tighten the grub screw with torque recommend.
Download Attachment